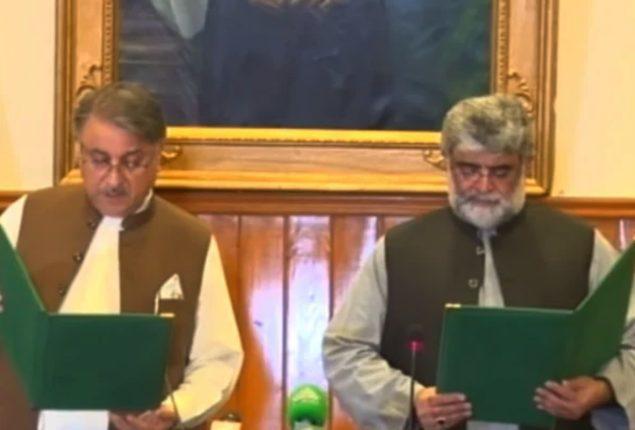 Ali Mardan Domki takes oath as interim CM of Baluchistan
QUETTA: Seasoned politician Ali Mardan Domki on Friday took oath as Balochistan caretaker chief minister during a ceremony held at the Governor House in the provincial capital city.
Balochistan Governor Malik Abdul Wali Khan Kakar administered the oath to Domki.
Earlier today, Domki was named as the caretaker CM by a parliamentary panel and a summary in this regard was approved by the provincial governor, Geo News reported, citing sources.
Domki belongs to the Lahri area of Balochistan and is the son of former senator Mir Hazor Bakhsh Domki, who was a lawmaker from 1975 to 1977.
The development comes after the first round of the talks between members of the committee — formed by Balochistan Assembly speaker Mir Jan Muhammad Jamali — failed to agree on a name a day earlier.
The committee was formed following three days of talks sans results between outgoing Chief Minister Abdul Quddus Bizenjo and the Opposition Leader in the dissolved Balochistan Assembly Malik Sikandar Khan.
It is pertinent to mention here that the assembly was dissolved on August 12, the day it completed its five-year tenure. The dissolution of the assembly prompts the process of picking a caretaker setup, which facilitates the Election Commission of Pakistan (ECP) in holding the general polls.
The elections will see a delay as the ECP has announced the delimitation process, which will complete in mid-December, meaning that the polls will take place some months later.